With draws on the three top boards, the top of the table got tighter again with nine players now on 4,5 out of 5. Vidit Santosh Gujrati repeated moves early with the white pieces against Anish Giri so they drew.  Incidentally Vidit is Anish's second so perhaps there is both mututal respect and knowledge of each other's openings.  This enabled Anish to visit the commentary room for quite a while and give some nice insights into various things.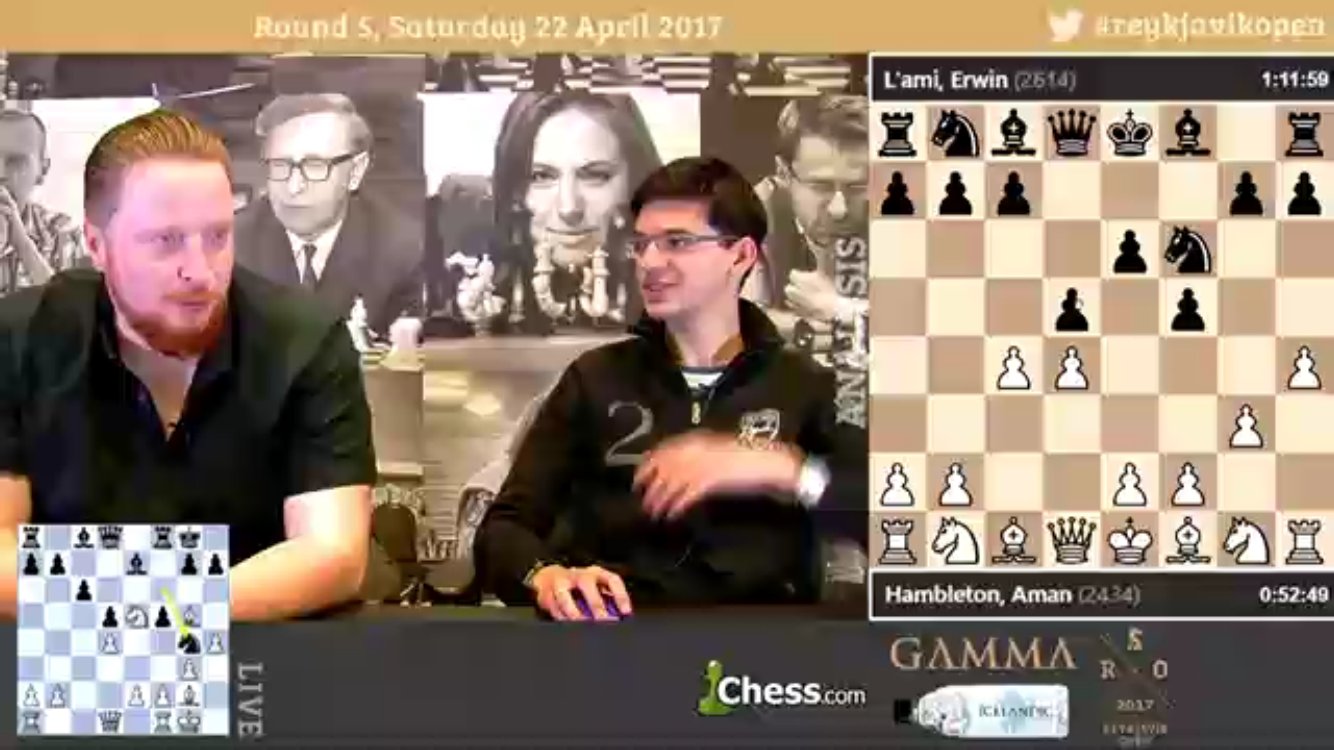 One interesting thing was when Anish mentioned his preparation for a game against young Icelandic talent, Vignir Vatnar Stefansson. Anish mentioned that he had watch some GingerGM videos on the Dutch, saying "I just wanted to know what he knows". This shows the dedication of these absolute top players!
The good friends Grandelius and Gawain Jones also drew after a repetition in an exchange King's Indian after 30 moves. Andreikin and Gupta also had a quiet day with a 22 move draw.
The first decisive result came on board 4 when Baadur Jobava.won against local five-time winner Hannes Hlifar Stefansson. Jobava imposed his unorthodox style on the otherwise classical Stefansson and he prevailed. Early in the opening Jobava had a tripled pawn on the e-file on move 12 🙂
Other results  included Almasi winning against Ramirez in a tense game. Aman Hambleton is looking like the star of the tournament so far and is well on course for a GM norm after beating 2015 winner Erwin l'Ami a day after defeating Alexei Shirov. Truly impressive stuff from the "Chessbrah".
Today in the 6th round the leaderboard will take more shape and we have plenty of battles coming up in the next few days.
Live games can always be found on the official site.
Live commentary by Fiona and Simon here: twitch.tv/chess
Photo galleries by Maria Emelianova and Lennart Ootes
Comments
Comments have been posted